Clarity® D703 Amplified Cordless Telephone
The next generation of the #1 selling line of big button amplified cordless phones. The Clarity® D703™ combines hearing, vision and mobility solutions into one great value.

D702 HS D700 Series Expandable HS
The Clarity® D702HS™ is an additional handset for expanding the D700 Series of Clarity phones (D702, D712 and D722) around your home.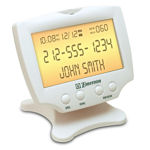 Emerson Large Display Talking Caller ID
The Emerson Large Display Talking Caller ID is the perfect accessory for your existing telephone. It will display the caller's name and number on the large LCD as well as announce the caller's number only, so you know who's calling before answering the phone - and even from across the room.