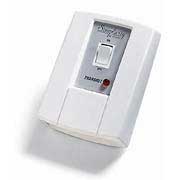 Simplicity Telephone Ring Signaler LT
Make sure you are alerted to every telephone call. These signalers plug directly into the telephone line then alert you when you receive a call. Choose from two styles: wall-mount or desktop. Both models can flash a plugged-in lamp to alert you. As an alternative, the wall-mount models can be used with the optional Add-On Strobe. This makes the wall-mount models ideal for areas where a lamp is impractical such as in small areas like hallways and dorm rooms. Choose the signaler with the right combination of features for you.
There is also a combination Telephone/Doorbell Signaler which is a cost-effective way to signal both sounds.
Please Note: In order for signalers/receivers to communicate with one another, each device needs to be plugged into electrical outlets on the same electrical circuit. If you have any questions, please don't hesitate to contact us via Live Help or by telephone at 800-233-9130 (V/TTY).
What the Model Names Mean:
L - Flashes plugged- in lamp.
T - Transmits to Remote Receiver.
D - Desktop model.

Feature Summary Chart:
| | | | |
| --- | --- | --- | --- |
| Features | Model L | Model LT | Model LTD |
| Signals both the telephone ring and the doorbell. | | | |
| Plugs directly into telephone line. | X | X | X |
| Built-in outlet to flash your plugged-in lamp. | X | X | X |
| Has switch to allow lamp to be turned on and off for normal room lighting. | | X | X |
| Transmits signal to remote receiver(s) to flash lamps in other rooms. | | X | X |
| Flash patterns follow the ring pattern. | X | X | X |
| Rests on a table or countertop. | | | X |
| Can plug in the Add-On Strobe in place of a lamp. | X | X | |