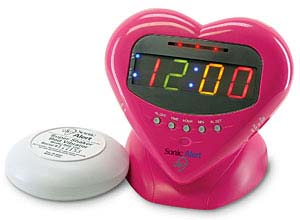 Sonic Boom Sweetheart Alarm
The new Sonic Boom Sweetheart Alarm has been designed for girls that just want to have fun. Cool hot pink color, fun multi-colored display with pulsating alarm lights. Waking up in the morning will never be the same.
Sonic Boom Sweetheart Alarm Features:
Packaged with the newest, most powerful 12-volt bed shaker.
Pulsating flashing alarm lights.
Complete with a hi/low dimmer switch to sleep better at night.
Extra loud audio alarm, loud 113db adjustable tone & volume control.
Battery backup maintains proper time and alarm setting in the event of a power outage.
1 Year Sonic Alert Warranty
Comes with a 110-volt power supply and will also work with an optional 220-volt transformer.